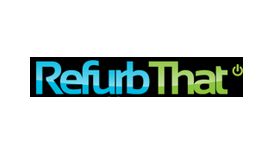 RefurbThat is a Microsoft Authorized Refurbisher, one of a select few in the UK. From our base in Northumberland we take in used computers from Europe, the UK, and the United States. With care and dedication we transform them into a 'like new' RefurbThat professionally-refurbished computer. Every RefurbThat computer is sold with genuine Microsoft software preinstalled. This means you buy a fully-functioning computer solution, not just the hardware. RefurbThat customers gain access to the benefits of operating system downloads, updates, and enhanced features out of the box, plus an upgrade path to future releases of the Windows operating system software.
When you buy a used computer you must be sure it has passed one of the industries most rigorous, multi-point checks. As a Microsoft Authorised Refurbisher, RefurbThat customers enjoy complete confidence in our products. During the refurbishment process, any faults we find are rectified using manufacturer-approved parts.
---
Reviews and Ratings
Amanda Melrose, Lesmahagow, South Lanarkshire (now biggar)
I bought my husband John a refurbished Dell desktop in July 2014 from Refurb and it has been great it is still working perfectly and I have never had a problem with it. I would love to keep using it but M/S is withdrawing security from WIN 7 pro so I have to give up my pc with great reluctance. A sincere thank you for a great PC.