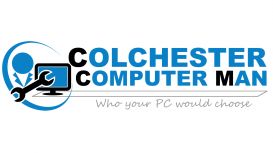 Just like your car your PC is finely-tuned equipment and, just like your car it requires regular servicing and maintenance to keep it healthy. If you don't service and maintain regularly it can cause many problems to performance or it can break down completely. Colchester Computer Man (CCM) is a company based in Colchester, Essex that specialises in the repair, servicing and maintenance of up to 3 computers for home and small business customers.
We do home computer repairs where possible or we uplift to our workshop. Colchester Computer Man (CCM) currently operate in Colchester, Essex and the surrounding areas (to within 15 miles of Colchester town centre) and offer a unique computer service and maintenance pricing structure for callouts (at a time to suit you) to both commercial and domestic customers. During a maintenance or service visit we will perform several tasks including virus removal and spyware removal which is the single largest problem with computers' performance.
---
Reviews and Ratings
We do not have any reviews about Colchester Computer Man (CCM) available right now.