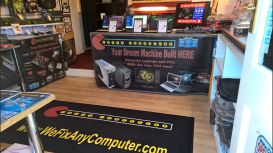 What allows Chips to boast that it can offer a better service than our competitors, online or on the high street?
We could mention the excellent Customer Service that our sales have, But at the end of the day, we think it comes down to the fact that we are dedicated to giving our customers the best service possible and are genuinely extremely passionate about what we do. We love computers and we want you to love them too!
You'll even find us often talking to our customers on Facebook, or over email out of our opening hours, simply because we enjoy our work and don't see it as an 'un-needed hassle'.
This passion for supplying the best possible kit at the right price means that you can be assured that you are in the right hands when you buy from us!
So, why not try us out? If you have a question, email or drop a post on our Facebook page, test our answers out against the competition. We are confident that we will exceed your expectations!
Chips Computers started in 2005 as a Callout only service and soon opened our retail store based in Chesterfield. Repairing and building computers for the home user, soon expanding into bespoke, great performing PC that would not break the bank. From our first PC we decided that we would do everything in our power to ensure that our PCs were built to a higher standard than any of our competitors and we would look after our customers with more care than any other PC builder could. Today, we've carried on that concept by producing elite, custom built PCs backed up with Over 30 years of knowledge, experience and service & support.
Our customer service has always been the core value of our company. This has seen customers from all over the UK continue to return to Chips repeatedly for their computer requirements. Our outstanding service and attention to detail has not gone un-noticed. It has allowed us to be put forward for awards such as the PCR Independent retailer 2015, as well as win awards like the Best Technology Store in the Chesterfield Retail Awards.
Below are the national industry recognition, awards and accreditations we've collected over the years, so you can be sure to buy from Chips with confidence.
2015 Chesterfield Retail Awards, Best Technology Store - Winner.
2015, 2016 PCR Awards, Best Independent Retailer in the UK - Finalist x2.
2014, 2015 – Current, Shop Talk, National Retail Awards - Winner x2.
2014, 2016 Chesterfield Retail Awards, Best Technology Store - Finalist x2.
2015 PCR Store of the Month.
---
Services

Virus Removal and services: Virus and spyware attacks are becoming more frequent and more serious. They can be amongst the hardest computer problems to deal with. You will most likely require professional help to clear the virus and to repair the damage it may have done to your system.
Computer and laptop repair: Is your computer crashing or freezing in the middle of your office application or favourite game? Perhaps a hardware conflict is causing the problem, software has become corrupt or possibly your drivers need updating - whatever the problem, we have engineers ready to help.
Data Recovery: Do you suspect your hard drive is broken, worried your documents and photos may have been lost?
Reviews and Ratings
We do not have any reviews about Chips Computers available right now.